OLCC Recreational Marijuana Program Update Reviewed
2/3/2017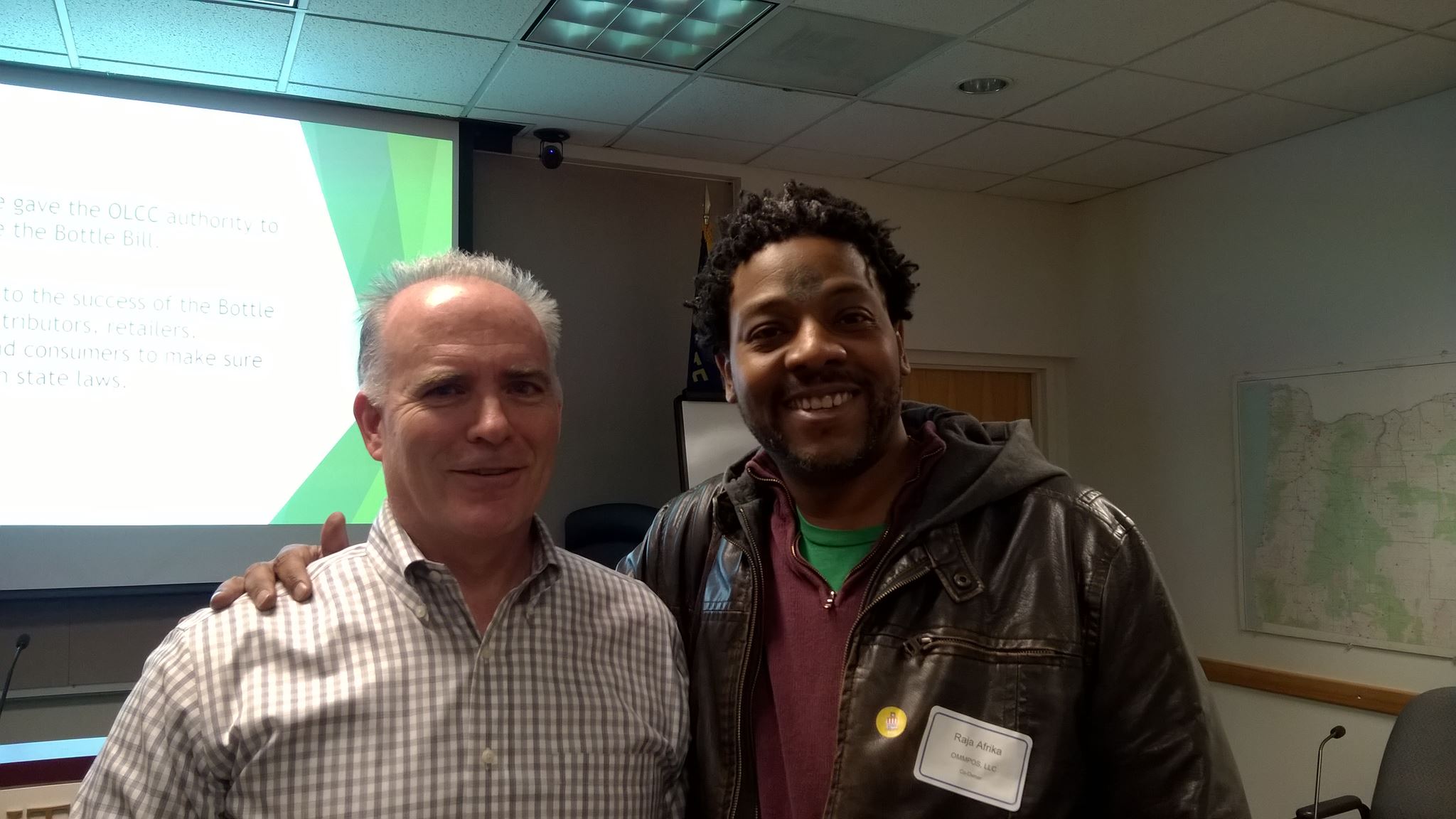 Yesterday the OLCC hosted a Marijuana Update meeting. The meeting was attended by approximately 70 Producers, Processors, Wholesalers and Retailers. During the meeting the OLCC explained the breakdown of rules and responsibility between organizations like the OLCC, OHA, DOA and ODOR. After each presenter there was a question and answer session that was very enlightening.

New Licenses and License Renewals

The OLCC reports that there is a backlog in processing the various applications for licensing. During the first year the OLCC pulled inspectors from the Liquor side of affairs to make up for the backlog of applications. Now those auxiliary resources are returning to normal duty so expect a slowdown in the time that it takes to process a new or renewal application.

For those licensees who have a renewal date pending the OLCC recommends that you apply for renewal sooner rather than later. There is a critical 20-day window for renewal. If you apply for license renewal with more than 20 days left on your license, then you can continue to operate even if it takes the OLCC more than 20 days to process your license renewal, however if there is less than 20 days left before you apply for renewal then you will have to close operations after your expiration date until the OLCC is able to process your renewal. Again, apply with more than 20 days on your license and keep operating. Apply with less than 20 days on your license and shut down when your license expires until after the OLCC can process your application.

METRC

The OLCC warms that there are a lot of reporting irregularities in METRC and that they will be beginning to crack down on these errors soon with fines. The example provided was that of the producer who harvested a plant 6 months ago and never applied a tag. Please be sure to keep your METRC reporting accurate and up-to-date to avoid penalties.

Pre-rolls

TJ Sheehy of the OLCC says that pre-rolls should always be weight-based. Many dispensaries log pre-rolls as unit or combined-each in METRC but this is incorrect. All pre-rolls should be weight-based.

Tags

IT IS NOT NECESSARY TO APPLY YOUR OWN TAG OVER A VENDOR TAG. If you receive a package from a vendor and that package has a package tag you can use the METRC package tag in OMMPOS. You do not need to re-package packages received from Vendors.

Employees

The OLCC emphasized that it is the licensee's responsibility to ensure that ALL employees of your organization are registered in METRC and that all employees who handle Marijuana possess a valid Marijuana Handler's card.

For questions about the rules the OLCC recommends visiting WhatsLegalOregon.com

For question about how we can help you keep your dispensary compliant contact Raja (971) 276 – 3371 or visit us at http://ommpos.com
Which Cities Implemented the 3% Tax?
1/7/2017
In November 2016, voters in many municipalities approved local marijuana taxes of 3 percent. Many of those municipalities decided to have us collect those taxes on their behalf. A list of those municipalities is available on our website.

Starting in with February's payment for taxes collected in January: If your business is located in a municipality where we're (DOR) responsible for the collection of the tax, you'll include both your state and local taxes in your monthly payment. Using the marijuana tax payment voucher will help you determine your state and local taxes due. You can also print a voucher from your Revenue Online account (the same account you use to file your quarterly returns). When you put your monthly sales information into the quarterly return form, Revenue Online will automatically generate payment vouchers. We'll apply the payments appropriately to your state and local taxes due after you file your quarterly return and we validate the information provided with your monthly payments.

If your business is located in a municipality that's collecting its own taxes (Local), contact the municipality to find out how to file and pay your local taxes. You're still required to make your pay monthly and file quarterly for your state taxes, regardless of how the local tax is being administered. If you're not sure if your local government has a marijuana tax, contact them as soon as possible to ensure you're collecting the appropriate taxes from customers at the time of purchase.

We'll continue to update our list as more municipalities determine how they'll administer their local tax. Municipalities can change whether they have us collect on their behalf, but that change can only be made at the beginning or end of a calendar quarter. The local tax collection list on our website should be finalized by January 20 and will be in effect for first quarter 2017 payments (February, March, April) and return filing (April).

Thank you for your time and cooperation. Please contact us if you have any questions about local tax collections or marijuana tax requirements in general. You can also visit our website at www.oregon.gov/dor/marijuana for more information about Oregon's marijuana tax.
Marijuana Tax Administration
Oregon Dept. of Revenue
503-947-2597
DEA BANS CBD? FALSE
12/16/2016
Basically what is happening is an internal DEA accounting change in how they track Cannabis Extracts.
There appears to be a proliferation of misleading news with the headline :The DEA Just Banned CBD."
We searched the internet and have been unable to find this story on any major news outlets. It is my opinion that this news is false news or at least intentionally misleading.
Here is what we have been able to figure out with 15 minutes of searching with BING.
CBD being derived from Marijuana is a schedule 1 substance under Federal law. States like Oregon, California, Washington, Colorado and Massachusetts will have legal CBD products because Marijuana has been legalized recreationally in these states. In states where Marijuana is not recreationally or at least medically legal it would be illegal to possess CBD products.
Of course the postal service is a federal institution so sending CBD products through the post would violate federal law as would be transporting CBD or any other Marijuana containing product across state lines.
Basically nothing has changed.
We found this article describing the DEA Easing regulations for CBD research
DEA Eases Requirements for FDA-Approved Clinical Trials on Cannabidiol
DEA.gov / Headquarters News Releases, 12/23/15
and this source article with DEA commentary on Cannabis Extracts.
Rules - 2016 - Establishment of a New Drug Code
Take Deep Breaths. Hope this helps. This is my opinion and not legal advice.

- Raja Afrika (971) 276 - 3371